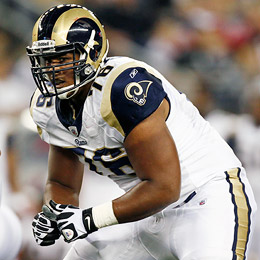 With the Rams completely out of contention this season, and everyone already looking ahead to the Rams Super Bowl (also known as The NFL Draft), it is already time to take a look at where the Rams roster stands for 2012 and beyond.  Today, we are going to take a look at the offensive line.
2012 Starters:
LT: Rodger Saffold
LG: [unknown]
C: [unknown]
RG: Harvey Dahl
RT: [unknown]
I'm putting the rest below the jump because this got a bit long:
This has gotten real ugly really quickly. Saffold is out for the year, but deserves another few years to improve on his play. Dahl was signed to a multi-year deal in the offseason and has been the Rams best lineman (which isn't saying much).
The question marks involve Jason Smith, who has a serious neck/concussion injury and no one is sure what they can get from him next year. His $10 million base salary for 2012 is also an issue. The Rams would be best off if he would retire and his contract would disappear off the books.
Jason Brown has been replaced at center by the immortal Tony Wragge. A new coaching staff may be able to get more out of him. He's been a huge disappointment since signing in St. Louis before the 2009 season.
Jacob Bell restructured his contract in the offseason to a 1 year deal. He is a free agent after the year and has been another huge free agent miss in the offensive line for the Rams. Probably for the best if he and the Rams part ways.
2012 Backups: G/C Tony Wragge actually hasn't been terrible when forced into action. G/T Adam Goldberg is still a flexible and valuable backup, even though he is a free agent, he should be welcomed back. G Mark LeVoir is backup-quality as a starter. OTs Thomas Welch and OT Kevin Hughes aren't ready to play yet, but should be back for training camp. Surprised G/T Ryan McKee hasn't got the call up from the practice squad yet, but he deserves a chance to prove himself in 2012 training camp. G Bryan Mattison started a few games this year with Baltimore, but found himself released and then awarded to the Rams, should be able to return in 2012 and possibly challenge for that open LG spot.  Tim Barnes is also stashed on the practice squad at the center position.
2012 Needs: Where to start? The Rams should be able to find a LG starter amongst Wragge, LeVoir, McKee, Goldberg and Mattison, so let's leave that spot alone. Since Jason Brown still has two years left on his monstrous contract, let's pencil him back in at Center as a new HC, OC or OL coach should be able to get more out of his size and talent. That leaves right tackle. Although there is one very tempting LT prospects at the top of the draft (which would push Saffold to RT) in Matt Kalil, I have already promised the #1 pick to Alshon Jeffery in the WR section, so the Rams could go RT in the top of the 2nd round, but on the advice of 3k from Turf Show Times (the Rams draft expert extraordinaire) I'm going to go with Levy Adcock (OK State) or Matt Reynolds (BYU) in the top of the 3rd round.