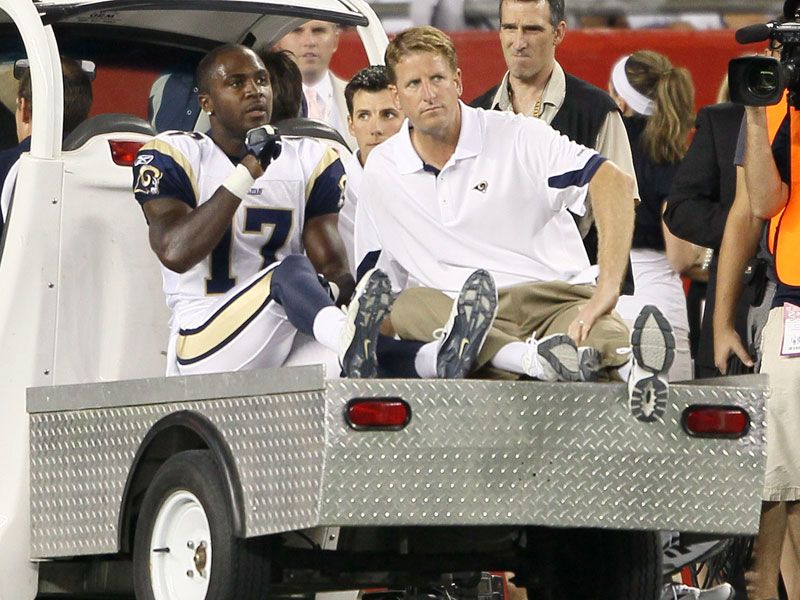 Last Thursday evening was filled with hope and despair in equal measures for Rams fans. It was week 3 of the preseason schedule and the Rams put on a performance against New England that left us ravenous for more. The hope came in the form of Sam Bradford, who, in his first start, tore apart a Patriots defense with a maturity that staggered even the most optimistic of supporters. The despair though was the sight of speedy wideout Donnie Avery clutching his knee before being carted off the field. After the game it was confirmed that Avery had torn his ACL and would be out for the season and placed on IR. So… what does it mean for the Rams in 2010?
One of the most curious developments since his injury is that Avery has suddenly become the clear-cut #1 wide receiver for the Rams! In previewing the season ahead pundits were fast to cast aspersions over our receiving corps as one of the poorest in the league and name Laurent Robinson as the surest fantasy option for the Rams. Avery was classified as a straight-line burner who was tenuously hanging onto the #1 position over the breakout candidate, Laurent Robinson. As soon as Donnie was placed on IR though it was as if there had never been any question that he was our top receiver! Without question his injury is a big loss in a season where we start a rookie QB, but there are now opportunities for other roster members to step up and prove their worth.
The obvious candidates for increased playing time you would assume fall to Brandon Gibson, Mardy Gilyard, Danny Amendola and Keenan Burton. Gibson was in the starting line-up at the end of 2009 after Burton succumbed to injury. He registered 19 catches for 176 yards and one touchdown in the final five games for a season total of 34/348/1 in 10 games as a rookie. He was part of the trade that saw Will Witherspoon head to the Eagles last year and caught 4 balls for 50 yards including a 20yd TD last Thursday. He certainly isn't a like-for-like replacement for Avery but does offer solid short and intermediate route running with decent hands.
Continue after the jump!
You'd be safe to assume 2010 4th rounder Mardy Gilyard is the most comparable player to Avery based on his skillset, although his combine 40 time (4.61) would not suggest so. Gilyard flashed play-making ability in college when the ball was in his hands, recording 3.003 yards (14.7 YPC) and 25 TDs (and 5 PR & KR TDs) for Cincinnati. He could find himself thrust into the starting line-up if the coaches want to diversify the qualities of the WR opposite Robinson, but he'd probably be more suited to playing out of the slot so early in his pro career.
The overused analysis of Danny Amendola as a poor man's Wes Welker is relatively apt for our record breaking kick-returner. He has proven to be reliable and great at catching short passes over the middle and moving the chains. 5 catches for 50yds on Thursday including some 'hots' from Bradford show there is some rapport with our likely starting QB. However' like Gilyard he might be best suited as a slot receiver, so it could be interesting to see how Shurmur will resolve this situation come week 1 and the Cardinals.
We mustn't forget the 3rd year, big-bodied, Keenan Burton. So far in his Rams career Burton has been plagued by nagging injuries, but of the four previously mentioned receivers, he is the most ready to step in and contribute. Similar to Gibson he is considered a safe hands, over-the-middle type of player. His career stats don't jump out at you (38/425/1 in 22 games) but there is of course the belief that receivers really breakout in their third year. He was the incumbent starter ahead of Gibson last year (after Robinson was injured), but it remains to be seen whether he will ressume that role.
Danario Alexander should also get a mentioned. The 6'5" Mizzou star caught 113 passes for 1,781 yards and 14 touchdowns last year but then required a 4th knee surgery follow an injury during the Senior Bowl practices. I think it's a stretch for him to even make the 53 man roster to be honest, but that doesn't mean he isn't a future Ram. Hopefully he'll get on the practice squad, get fully healthy and force the team to put him on the roster. It would certainly be nice to find an effective red zone target on the cheap!
The final area to cover in the wake of Avery's injury is the persistent rumblings that the Rams are interested in Vincent Jackson. Apparently we have at least contacted the Chargers to see what they would want in a trade for the elite deep threat. The rumour mill suggests that San Diego will want a deal similar to what Miami paid for Brandon Marshall (two 2nd round picks) and with V-Jax asking for a $50m, 5 year contract, I'm not convinced the Rams front office is enamoured with the idea. I can see the merit in the deal if we were coming off the back of an 8-8 or slightly better year, but we're not. We are still at the initial stages of our rebuild.
So, what do I think will happen? I think Amendola will play the slot role as Bradford looked very comfortable hitting him as his checkdown and Gibson will play opposite Robinson, but Gilyard will be given reps at both positions to flow his game-speed and big play ability. Although we do not have a receiving corps stacked with elite talent, there is plenty of potential, and now due to Avery's injury, plenty of opportunities too.