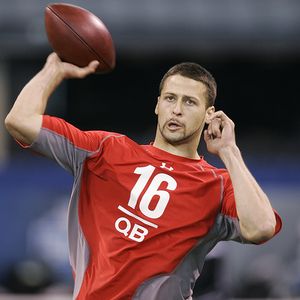 The Rams have decided to go with more than 2 QBs for the rest of the season and in a surprise move, the Rams did not resign Brock Berlin.  Instead the Rams signed former rookie free agent QB Mike Reilly out of Central Washington from Green Bay's practice squad.
Here's a great article on Mike Reilly from Washington Post online by Doug Farrar of Football Outsiders,
The most important stop will be his ability to meet the schematic needs of a team over the long term. The right fit is key for any quarterback in the NFL, and Reilly's style — he compares himself to Kurt Warner in his ability to get the ball out quickly and Ben Roethlisberger in his resourcefulness when making something out of broken plays — might just allow him to write the next small-school success story.
The Washington Post quotes Greg Cosell of NFL Films who has this to say about Reilly:
"I think that as a pro prospect, he's the fourth-best quarterback in this draft, after Freeman, who has a ton of skills but is very raw and unrefined. But after that, Mike Reilly — and I've watched him on film, and I've seen his only game against a Division I opponent in Montana, in addition to some other games — I think he shows NFL attributes. I love when I read stuff that says, 'Well, the guy has an average arm.' When you watch him on film, he doesn't have an average arm. He actually has a pretty good arm. And he does the things … I understand that it's not against top competition, but that's not the point, He's also not playing with great competition. He's playing with the same (level of) guys he's playing against. So, you look for NFL attributes, and he's got them.
UPDATE: More scouting reports after the jump
Mike Reilly was eligible to be selected in the 2009 NFL Draft, but went undrafted. He signed a free agent contract with the Pittsburgh Steelers. Reilly went 10-of-15 for 117 yards during the 2009 preseason, but was waived on Sept. 5, 2009.
On Nov. 19, 2009, Reilly was signed to the Green Bay Packers practice squad.

Mike Reilly is a former quarterback at Central Washington, where he was the runner-up for the 2008 Harlon Hill Trophy, given annually to the best player in Division II. After playing four seasons for the Wildcats, Reilly was eligible to be selected in the 2009 NFL Draft, but went undrafted. Reilly is 6-feet, 2-inches tall and weighs 196 pounds.
Reilly is a good athlete with deceptive speed (4.80). Reilly has good arm strength and is a very accurate passer who can zip the ball on the intermediate level. However, his accuracy diminishes somewhat on his deep balls. His mechanics are good for a lower level performer, and he reads defenses with easy and goes through his progressions well. The level of competition is not an overwhelming concern.

Reilly belongs in the NFL. He is moving up in some Draft Boards. Being a natural leader, he is one of the sleepers in the Draft. His offensive system is more complex tha some of the BCS' teams, so he is very accurate and competitive. With better coaching and improved mechanics, he could find himself playing on Sundays one day. A sixth or seventh round prospect today, he could move up quickly.
From