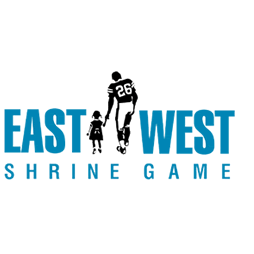 On Saturday in Orlando, a dominating defensive line performance propelled the East to a 25-8 win over the West. Watching the game, a handful of players stood out that I hope the Rams will give a good look, and a bunch stood out that don't look like players that would help the Rams out much next year. Amateur scouting report follows:
* DT Marvin Austin (North Carolina) looked dominant and probably should have been voted the MVP of the game, though I'm not sure how he got even got in it, when he was suspended all season for dealing with an agent. Today he was pretty much a man among boys. None of the West interior linemen could stop him from pressuring the QB. He pushed Caleb Schlauderaff (Utah) right back into the QB on one play. The last TD of the game was the game in a nutshell for both teams. Austin drove Schlauderaff and the West center back into the QB, who had no choice but to run, and two stripped fumbles by East LBs later, Austin was on top of the ball in the end zone. I don't know if this was a Freudian slip, but my notes say, "The Ease d-line dominated this way all game." The East did, with ease, led by Austin. Can the Rams get him? Tough call. Besides his off-field issue, he seems likeliest to go between the Rams' 1st- and 2nd-round picks.
* If Austin wasn't the MVP, then it had to be DE Justin Trattou (Florida), who dominated very overmatched right tackles throughout the game. He whipped Laupepa Latuli (Hawaii) almost every play. I think he blew up every screen pass the West tried. Nobody apparently cared enough to do a decent box score for this game, but Trattou had at least two sacks. Mike Mayock calls the 6'4″ 255 Trattou a 3-4 OLB prospect, not big enough to be a 4-3 DE, though he sure looked great at it today. This time last year, Mayock was insisting Rodger Saffold had to move to guard in the NFL despite a fine EWSG performance at tackle. A zone-blitzing team like the Rams has to love a guy like Trattou, who showed both quickness getting after the passer and to drop off the line and break up short passes.
The rest of the report is after the jump.
* Austin had good company at DT from Martin Parker (Richmond), who also gave Schlauderaff fits. He had a couple of sacks and forced a fumble. Thought he was quite reminiscent of D'Marco Farr, and he should be the kind of quick, upfield-penetrating DT the Rams (yeah, and everybody else, too) like.
* The West got into the DT act with Brandon Bair (Oregon), David Carter (UCLA) and Karl Klug (Iowa). Bair beat Randall Hunt (Illinois) almost every play early. Carter pushed a double-team backward for a tackle-for-loss on a running play. Klug is a classic Iowa lineman, undersized but strong as hell. He ain't playing NFL DT at 272, though. Olong Ogbu (Penn State) had a couple of sacks.
* DE Kenny Rowe (Oregon) had a couple of sacks, and forced a fumble near the goal line that the East had to fall on for a safety. Ryan Winterswyk (Boise State) showed nice quickness to pressure the pocket.
* I watched the game focusing on the guards at every snap, and got an eyeful of terrible play. Almost all the o-linemen in this game looked awful. Schlauderaff had one pancake block I saw but struggled all game in pass pro, and Parker pretty much made a blocking sled out of him. Zachary Williams (Washington State) looked terrible. Ogbu (Penn State) whipped him for a sack and he blew up another play by stepping on his QB's foot. Williams was getting smoked badly repeatedly by the end of the game. Not sure I'd give you $20 for Andrew Jackson (Fresno State). Ogbu also whipped him for a sack, Austin blew him up to set up Trattou's last sack, and he made the mistake of trying to run with a fumbled ball and fumbled again to create the East's last TD. He also had a holding penalty on a running play. He settled down later in the game, but at the start, Latuli looked like the worst player ever invited to an all-star game. There were plays where Trattou and others would be around him or Matthew O'Donnell (Queens, Ontario) before they could even get out of their stance. (And that takes a long time for O'Donnell; he's 6'10".) Rowe whipped O'Donnell at will. It looked like East center Ryan Bartholomew (Syracuse) got knocked backwards every play. I wouldn't give most of these guys as much as a second look.
* It wasn't all awful on the o-line. T William Rackley (Lehigh) looked like a good blocker. Center J.C. Brignone (Mississippi State) was up-and-down. He had the key block on a 13-yard middle run and threw a pretty cut block on the West's TD pass. He looked pretty solid in pass pro other than getting beaten badly on a near-interception at the end of the first half. G Bryant Browning (Ohio State) was getting beaten repeatedly at the outset but settled down. The best guard combo of the day was he and G David Arkin (Missouri State), who was one of my favorite players today, certainly the best guard, possibly the best o-lineman, in the game. I don't know where Arkin was in the first half, but from the start of the second, he was mauling guys. He had a couple of pancake blocks, had good blocks that sprung 8- and 9-yard runs, and did some nice pull blocking, despite Mayock's declaration that he was "best in a phone booth". The 6'5″ 300 Arkin is the kind of physical run-blocking guard the Rams need, though a better look at his pass-blocking skills would be in order.
* SS Shiloh Keo (Idaho) stood out as an all-over-the-place kind of player. He made quite a few plays at SS and on special teams, where he played both ways, returning kickoffs and blocking an extra point. At a minimum he seems to have a bright future as a teams specialist.
* Looking for players at the skill positions? Lotsa luck. Dominant defensive line play and poor quarterbacking led to passing games that only Pat Shurmur could love. The WRs were non-descript; the Rams aren't getting any help from this game at that position. Delone Carter (Syracuse) was the main decent-looking RB, scoring the opening TD and showing decent outside speed in doing it. He also caught a pass and received the actual MVP honor for the game. RB Alex Green (Hawaii), on the other hand, fumbled twice. QB Jerrod Johnson (Texas A&M) had the strongest arm there but had a laughable attempt at a throwaway intercepted in the 2nd half. Ball could have been fair-caught. A couple of tight ends "popped": Greg Smith (Texas) had several catches, including a 35-yarder up the seam, and was essentially the standout receiver of the game. Converted basketball player Julius Thomas (Portland State) caught a TD and a 2-point conversion, but SS Jermale Hines (Ohio State) spooked him into dropping a perfect seam pass from Johnson later. Not much to see here.
* Not much to see in the defensive "back seven," either, not with the lines dominating and QBs barely able to get the ball downfield. Hines had that cool play I just mentioned. Chris Walker (DE or LB, Tennessee) and Eric Gordon (SS or LB, Michigan State) forced fumbles, on the same play, the East's last TD. CB Mario Butler (Georgia Tech) looked pretty sucky, giving up a bad DPI and brutally dropping an INT thrown right to him. The Rams have enough players like Butler, hell, named Butler, already. Nicholas Bellore (LB, Central Michigan) was beaten badly on Carter's TD run; the Rams also already have plenty of LB's who can't get to the edge quickly enough, sorry.
So, no, the East-West Shrine Game probably didn't help the Rams out a lot at all. I'd mostly look at the defensive linemen, possibly Delone Carter and Greg Smith, and make sure to get a good look at Arkin and Keo. Anywhere else on the field, though, especially on offense, the Rams might as well wait and get a good look at the Senior Bowl.