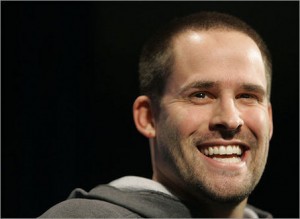 Josh McDaniels could be the next Rams offensive coordinator in the next few days as rumors begin to trickle out.
Turf Show Times has a good wrapup of the notes and quotes from NFL Network's Michael Lombardi and ESPN's John Clayton.
UPDATE: Michael Lombardi of NFL Network has a report linked from Turf Show Times from yesterday and says he thinks Josh McDaniels will make a decision within the next 24 hours, which would mean today.
Pro Football Talk says McDaniels is leaning towards the Rams (over the Vikings).  Just remember to take anything you read from Pro Football Talk with a grain of salt.
If McDaniels is choosing between the Rams and Vikings, one would think the Rams have a huge advantage in the person of Sam Bradford.  The Vikings have Adrian Peterson at running back, but Steven Jackson can match him straight up.  The Vikings have a better receiving corps, but star wideout Sidney Rice will be a free agent.
We are biased here at Rams Gab, but for an offensive coordinator, it should be a no-brainer to come to St. Louis.  And reports have come out over the past few weeks that McDaniels has always wanted to work with Sam Bradford.