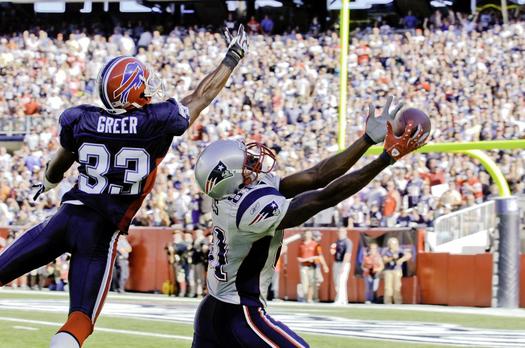 If you haven't heard yet, Randy Moss has hit the waivers.  No, Favre didn't cut him, and neither did the general manager or owner.  Brad Childress, the Vikings head coach, surprisingly  did. The action might have caused by what was shown on the field against the Patriots, or may have even been the comments about the food at dinner in the mom-and-pop restaurant.  Either way, diva Moss came out. But what causes "good" Moss and what causes "diva", or bad Moss?
Every night as I'm laying down trying to fall asleep I think. What I ponder ranges in a wide variety of ideas. But last night, it was all about Randy Moss.  I began with the question "what causes Moss to act in two completely different ways?" The answer came to me: his number of receptions. In 2004, Moss, hampered by a bad hamstring and used as a decoy in a few games, was limited to catching 49 balls averaging 3.8 receptions every game. The decline in his play led to a trade. In the 2005 and 2006 seasons during his time with the Oakland Raiders, Moss averaged 3.8 receptions per game and 3.2 receptions per game, continuing to go without a decent amount of catches. Again, he was traded. His career was revived, however, thanks to the magical Tom Brady. Then came 2010. With Wes Welker out catching him during the 3 games there 18 to 9, he turned into his diva self. He was then traded again, back to the Vikings. And with a poorly playing, very injured, and questionable Brett Favre, Moss only got an average of 3.3 catches every game. This led his diva acting self again, and, ultimately, his release.
So how can a team please Randy Moss? Give him the dang ball! Moss, relatively happy when catching 4 or more balls per game, is an effective, less harmful player.
So the following question that came to me before my sleep was "Can the Rams satisfy Moss?" My answer: Absolutely. There is no question that Sam Bradford can hit any target he desires. He is much more accurate than the old and decrepit Favre and there is no wide out that would take away or compete for his receptions. Bradford needs that number one receiver to not succeed, but to grow. He needs to learn and feel comfortable hitting a wide receiver down the field in the NFL. Moss hasn't lost his ability to play, he did make this incredible one-handed catch against DarrelleRevis and the New York Jets this year.
There would also be many bonuses with the presence of Randy Moss. An obvious one would be what the young wide outs have been missing for their entire time in the organization: a knowledgeable, top-tier, veteran wide out. They'd soak up his knowledge like a sponge. The same would go with Bradford.  He would sit there and soak up every detail of how Moss and his quarterbacks managed to have such good seasons. Culpepper was great quarterback in his prime and Tom Brady is Hall of Fame bound at some point, so it could only help to learn how they prepare and execute.
If I'm wrong, please tell me. I'm very much open to changing my stance.