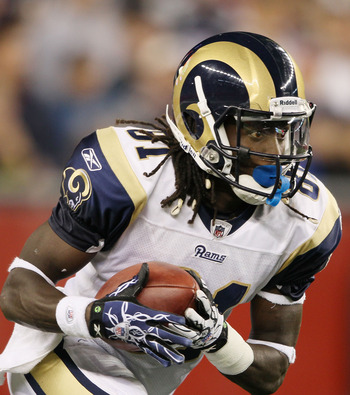 "Step up" is a phrase that is terribly overused on ESPN, the NFL Network and by the FOX and CBS announcers, but in this case it is appropriate for the Rams WR Mardy Gilyard.  The Rams have added four wide receivers to their roster since 2009: Mark Clayton has been lost for the year, Dominique Curry has been lost for the year, Danario Alexander has finally been activated from the practice squad and Mardy Gilyard is the only new WR that is now in a position to make an impact on the Rams offense.
Gilyard has been a disadvantage in his rookie season.  He couldn't join the Rams until well into minicamp because Cincinnati did not graduate until late.  He then suffered a few injuries in training camp that kept him out of the lineup. But, even into the regular season, Gilyard did not appear to know the Rams offense or if he did, the Rams coaching staff did not trust him to run the right route.  He was used mainly on special teams as he worked off his nagging injuries and worked his way into the offense.
As injuries struck the Rams offense, they began to work Gilyard in the offense by force.  They began to throw him smoke passes so that Gilyard could use his athleticism and agility with the ball in his hands quickly.  Gilyard has not been as successful as the Rams hoped running back kickoffs and with the quick throws to the wide receiver.
The Rams will be looking to Mardy Gilyard to fill Mark Clayton's shoes on the outside of the Rams offense.  Gilyard needs to get the Rams offense down as soon as possible otherwise the offense will return to its 2009-roots of all underneath passes.  Certainly, no one wants that and it all come down to Mardy Gilyard.  The time for excuses is over.  He needs to know the offense, he has had plenty of time to learn the playbook.  When he was injured or still waiting for Cincinnati to graduate, he should have been learning the playbook.  There is no time to bring Gilyard along slowly.  He needs to step up.