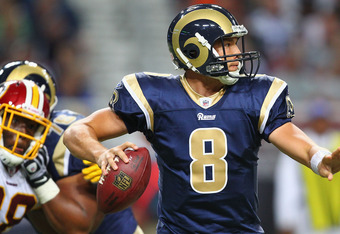 With the Rams finally getting a win, will playing Rams players in your fantasy leagues result in a win for you? I'd have to say yes! My pre-season conservatism looks like it might have been too cautious, and with Seattle, Detroit, Tampa and Carolina all in the next 5 weeks, it might be time to swoop on the waiver wire for some Rams…
Quarterback Sam Bradford continues to solidify himself as a viable fantasy backup. His numbers aren't mind boggling, but offensive play-caller Pat Shurmur trusts him (see third and 15 to Mark Clayton). Bradford also kept it all together in last week's win over the Redskins, even after Steven Jackson was side-lined and looks like he will continue to progress as the season wears on.
Steven Jackson continues to be downgraded however. A worrying groin strain held SJax out of the 2nd half against Washington. He has yet to break 100 yards rushing in a game. He has 9 catches through 3 games for only 62 yards. Bradford seems comfortable spreading the ball around rather than dumping off to Jackson as a safety blanket, and he now has an injury worry. Jackson is still the focal point of the Rams offense, but not to the levels we were expecting before the season.
At wide receiver Mark Clayton continues to look like a worthy addition to any fantasy roster. Bradford seems very comfortable with Clayton and although he has only scored TDs in one game this year he seems to be the downfield go-to-guy. Danny Amendola might even be worth stashing away in deeper leagues if KR yards are rewarded. He is getting around 5 catches a game and moves the chains often on third down.
Rams tight-ends are a minefield in fantasy. Due to injuries to Hoomanawanui and Bajema, not to mention inconsistencies with Fells and Onobun, it is difficult to know who is going to be on the field. Add in that none are elite pass-catching threats, you can't have any on your fantasy roster.
IDP after the jump.
With regards to IDP, there is lots to be cheerful for as a whole. The Rams D/ST is causing turnovers and holding teams to an average of 16.3 points-per-game, which makes them a viable starting unit. Kicker Josh Brown has missed a field goal each week. Don't touch him! If you play punters (what kind of sadist are you!?) Donnie Jones continues to be a reliable option week in, week out.
Chris Long is a tough one. He is playing good football, taking up double teams, disrupting plays and allowing less luminary names pad their stats, but is not impacting the box score with his own name, which makes for good fantasy play. I think you have to downgrade him really. I'd be loath to release him, but I certainly couldn't start him until he starts getting some sacks. On the flip side, James Hall is reaping the scheming from opposition O-Lines against Long to notch up sacks himself. I'd pick him up for your bench if you have some room and hope that his run continues. If so, either start playing him, or trade away!
Linebacker James Laurinaitis continues to be an IDP stud, making plays in the backfield. Although he is yet to reach double-digit tackles this year he is making his presence felt and is an invaluable IDP starter. Grant, Diggs, Kehl and Vobora are all solid role players, but that continues to limit their fantasy value.
One of the biggest surprises for me is the play of Bradley Fletcher. Solid tackle numbers in all three games, and interception and fumble recovery make him a solid depth CB. Playing opposite the more recognisable name in Ron Bartell, Fletcher is on the receiving of a numerous targets each game, and so far he is holding his own. Bartell himself is failing to achieve the numbers you'd want from your starting fantasy corner though. 4 tackles through 3 games is indicative of a corner doing his job, blanketing the receiver and not being targeted. For the time being, Fletcher is the better fantasy CB on the Rams roster.
At safety OJ Atogwe remains an elite option, but he should be monitored after missing time in week 3 with a thigh injury. James Butler has shown up on the stat sheet with his interception last week and a 48 yard fumble recovery against the 'Skins, but he is limited by injury (and ability). There will certainly be more capable players racking up tackles on your waiver wire, so leave Butler well alone.