The Rams have a young and up and coming corner group, that if they stay healthy could have a few players take steps forward in 2010.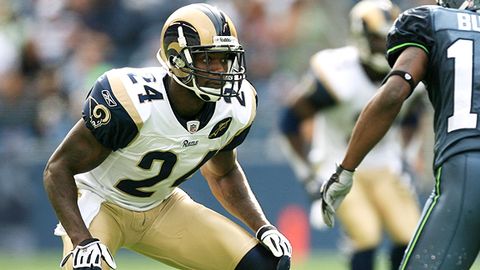 Ron Bartell – The Rams expected a lot of our Ron Bartell after signing a big contract prior to the 2009 season and he did not deliver.  He struggled mostly because he got hurt and forced himself on the field because he wanted to fulfill that big contract.  But, it is honorable that he wanted to play hurt for the sinking ship that was the St. Louis Rams in 2009.  He had no burst and had trouble changing directions.  A healthy Bartell is 2010 will be a huge step forward for the Rams secondary.
Bradley Fletcher – Fletcher was a rookie in 2009 and finally was having a big game against the Indianapolis Colts and then got eaten up by the turf monster.  He tore up his knee and was not even at full strength until most of the way through training camp.  He is still recovering, but Fletcher will be a great cover corner for the Rams when he gets fully healthy.
Rest of the corners after the jump!
Kevin Dockery – The Rams picked up the former Giant as insurance for their young secondary.  He's undersized and probably only fits in at a nickel or slot corner.  I think King, Murphy or even Johnson might be a better play for the Rams here during the season, but we will see if the undersized Dockery can fit with the youngsters.
Justin King – Justin King was an extremely raw corner with an injury history and a high upside when the Rams drafted him.  Two years later, he is still raw and has not quite yet reached his upside like fans hoped he would.  He still has that tantalizing upside like the day he was drafted but has been dealing with nagging injuries.
Jerome Murphy – The Rams drafted Murphy in the 3rd round of the 2010 NFL draft and he's a physical corner that fits Coach Spagnuolo's system perfectly.  He was playing great in the 2010 preseason opener before he picked up a slight injury.  He should be a great depth corner for the Rams in 2010 and should be challenging for a starting spot in the future.
Quincy Butler – Rams fans have probably seen too much of Butler over the last few years as he has been a constant replacement for the Rams injured corners.  He's nothing special out there and sometimes loses himself in coverage.  Perfect example was the game in preseason against the Browns.  He had a TD pass thrown right over his head as he wasn't looking and then had a great cover interception later in the game.
Marquis Johnson – Johnson has impressed in the preseason, but we should be surprised coming from a Nick Saban defense.  He is a solid tackler and showed no fear leading the way tackling running backs that are much bigger than he is.  He is great in coverage and can knock down passes with the best of them.  He is a future nickel or 3rd corner as that is what he played at Alabama.  He is a great late round pickup by the Rams in the 2010 NFL draft.
Antoine Thompson – Thompson has played a lot in the preseason due to injuries to the Rams corners and that has not been a good thing.  Thompson has some coverage skills, but he has been beaten all to often to be considered a good option for the Rams in 2010.  He should be cut on September 4th.