Don't forget to participate in Rams Gab's Approval Polling and let your voice be heard!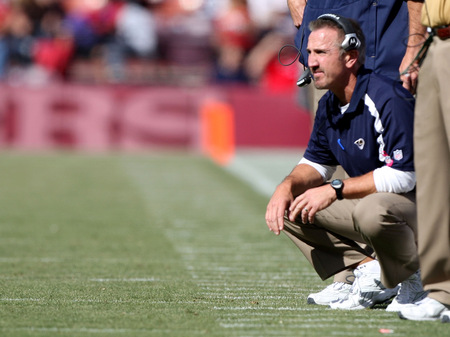 While reading the current "Atogwe Watch" news of the day, one quote struck me from head coach Steve Spagnuolo:
"I am doing this (crossing his fingers) and I'm on my knees all the time hoping that this thing works out."
At face value that is an odd statement from a typically tight-lipped head coach.  Spagnuolo rarely gives a quote as interesting at this one.  We know that Coach Spagnuolo is a religious man, being that one of the pillars of his "four pillars" maxim is faith.  And so, we can extrapolate that Steve Spagnuolo is praying for the return of OJ Atogwe to the Rams defense.
So much for the thought that OJ Atogwe does not mean much to the Rams defense or the idea that the Rams would be alright moving forward without Atogwe because they need to be able to swap safety responsibilities.  OJ Atogwe is a pure free safety who is at home playing in center field, but Spagnuolo is not dumb.  He knows Atogwe has talent and would make his defense better.
The Rams are still the front runners to sign Atogwe and no team (including the Rams) has come forward to meet Atogwe's asking price.  However, Spagnuolo will continue to pray that OJ returns to the Rams.