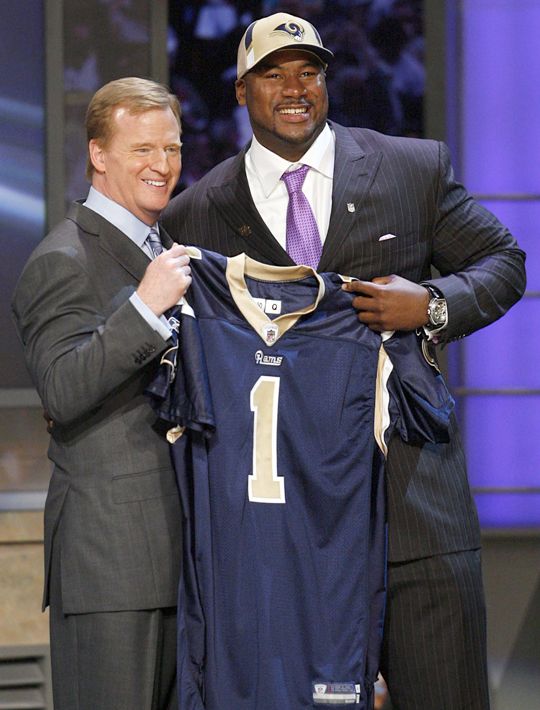 With all the talk of the upcoming NFL draft, there will always be comparisons to last year's draft and how every player matches up to last year's high picks.  So, this year Oklahoma State's offensive tackle Russell Okung was being compared to the Rams second overall selection Jason Smith.  The conversation starts on Twitter…
Move the Sticks: Just studied Russell Okung on tape… He is MUCH better than Jason Smith coming out… bends better, adjusts better, higher FBI

Move the Sticks: I graded Jason Smith and Okung and I don't think it's close.. Okung far superior.. most teams had Smith as late 1st rd guy

Draftbreakdown: @MoveTheSticks I agree. I thought J. Smith was very overrated. Played only in a 2 point stance with HUGE gaps between linemen

RamsGab: @MoveTheSticks did the Rams screw up last year by taking JSmith over Oher and ASmith? Now you've got Rams fans worried…

Move the Sticks: @RamsGab Jason Smith should end up being a very solid RT… most teams just think you don't take a RT in the top 5

RamsGab: @MoveTheSticks RT? Oh god. That's the kiss of death. We thought we were getting a franchise LT?!?! There goes my offseason.
So, wow… that happened.  The Rams offensive line went from solid to questionable and very expensive in a matter of one day.  With doubts sinking in about Jason Smith, we can wonder if the reason the Rams kept Jason Smith off the field were for the same reasons that scouts had doubts about him coming out in the draft. Was the reason the Rams did not get Smith experience at left tackle all season because he does not show signs of playing there long term?  Have the Rams spent #2 overall pick money on a right tackle?
However, no one thought that Jason Smith was a finished product coming out of college.  He was raw and only played in a spread offense at Baylor.  He's strong, but needs work on his technique and footwork.  The Rams are their fans are hoping that he can put together a great offseason working on all of his problems.  The Rams are relying on him to be the starting LT (or sadly RT) in 2010.