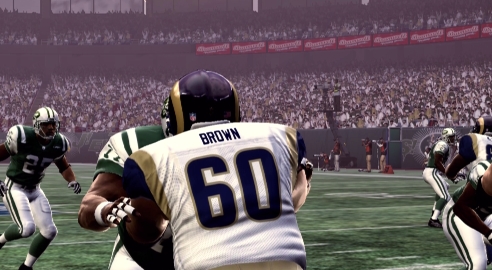 With the Rams season over, it is time to think about who should be back next year at every position.  Let's take a look through player by player. Next up are the centers.
Jason Brown – Jason Brown is a potential Pro-Bowl center and budding leader of the Rams offensive line.  The Rams offensive line is much better with him at center.
Mark Setterstrom – Setterstrom can also play guard, but he is listed as a center.  Setterstrom has almost been carted off the field more times than he has walked off it for the Rams as he cannot escape the injury bug.  The Rams signed another center to their practice squad (Drew Miller) as depth just in case Setterstrom got injured and he did.  Can the Rams trust Setterstrom to stay healthy going forward as a
Drew Miller – Knowing very little about Miller, I went to look for a few scouting reports on Miller from when he came out of Florida and was signed to a 3-year contract as a street free agent by Jacksonville.  Miller was just signed to the offseason active roster from the practice squad.
Positives: Works hard every snap, and is athletic enough to get into position to reach or wall off a defender. … Adequate burst and feet to combo block and get to the linebacker. … Handles shotgun snaps well. … Able to pull and trap fairly quickly, and gets out in front of screens. … Smart player who makes line calls.
Negatives: Does not play to size and weight room strength on the field. … Gets blown off the ball by better, stronger tackles. … Reaches too much in pass protection, instead of moving his feet. … Often off-balance and lunging when blocking downfield, so he is only adequate at finding and adjusting to targets on the move. … Lacks a mean streak. … Not much of a drive blocker. … Punch is lacking and he does not sustain well