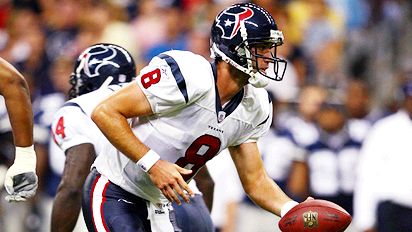 The Houston Texans visit St. Louis for the first time next Sunday, presenting a quite different challenge than the Titans did today, since they thrive off of their passing game. Look for the Rams to keep the safeties dropped back to try to contain the league's #4 passing game and receiving yards leader Andre Johnson. I doubt, though, that there's much reason to expect they'll fare any better against the Houston superstar than the Seahawks did today, yielding him 190+ yards and 2 TDs in basically a half. (BTW, thanks for killing my fantasy playoff, Seattle.) Only Darelle Revis and Nnamdi Asomugha have really been able to slow Johnson down so far this year. He's an impressively physical receiver, so not only won't the Rams be able to cover him, he's going to break bunches of tackles when they do track him down. With Andre the giant destroying the Ram secondary, Matt Schaub will be able to get comfortable in the pocket. Houston's line doesn't let its QBs get battered all season any more; they're 7th-best in the league for sacks allowed. They'll hit St. Louis with the #29 rushing offense and have lost Steve Slaton for the season. But Slaton's absence eliminates the Rams' best chance to create a turnover, and the Rams have gotten rolled by plenty of rushing offenses worse than Houston's this season anyway. The team from the town where NASA's headquartered could hang some astronomical numbers on the Rams next week.
There'll be opportunities to make plays against the Houston secondary. Their safety play in particular is terrible. Even with the presence of good young linebackers Demeco Ryans and Brian Cushing, the Rams will have opportunities to break runs to the second and third levels and, if they stick with it like this week, to give Houston a problem with play-action. But they'll have to control the battle up front, which will be tough with this group. Mario Williams, you know, the guy the Texans never should have drafted first overall, leads them with 8 sacks and will be working on Alex Barron, and the Rams have never blocked Antonio Smith. If Null's the QB again, he's going to have to keep getting the ball out quick and hope for more help from his running game than he got this week. There's a chance of that; Houston's 20th in the league at run D at 114.5 yards per game.
The Texans haven't been the most-focused team in the world. They were expected to be much better than their current 6-7 record and have lost several games this year they were expected to win. They've blown big leads. Their kicker has not been clutch. If the Rams can get after Schaub, if the D is as effective as it was on 3rd down today, they could open up some cracks in the Houston facade and wait for them to crumble again. From here, though, it looks like Houston's Texas-sized passing game advantage will tilt the game too far in their favor.