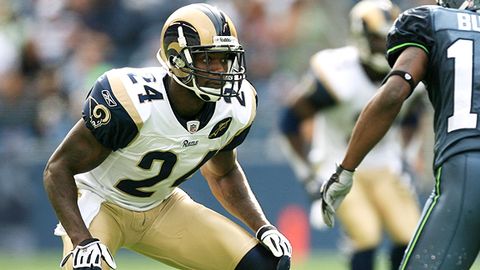 Rams corner back Ron Bartell has been playing hurt in 2009 and has been playing terribly.  He hasn't missed a game and is "toughing out" the thigh injury according to the St. Louis Post-Dispatch. The Post quotes Bartell in saying that he's had this injury for about 2 months.  The NFL season so far is about 2 months.  But, the good news is that the Rams are coming off their bye week and Bartell has had an extra week to rest his injured thigh.  He says:
"I'm not all the way there, but this is the best I've felt in some weeks now," Bartell said. "I feel like it's starting to come around."
Due to this injury, Ron Bartell has had a terrible year.  Pro Football Focus looks at every play of every game and they grade him out as the worst corner overall in the NFL.  He comes in second to worst in pass coverage.  The Rams do not have many other choices at the corner position and Ron Bartell has graded out the worst because he always lines up against the other team's best receiver, even when hurt.
Turf Show Times takes a look at Bartell as well, and considers that there is no better option for the Rams right now.
However, Bartell is earning the respect of his coaches and teammates by toughing out this injury.  He could have easily taken a seat after signing his big contract knowing that the Rams would not win much this season.  But, he did not.  That's shows a lot about Bartell.  Hopefully he will get healthy enough in the bye week to keep up with the New Orleans Saints track meet.