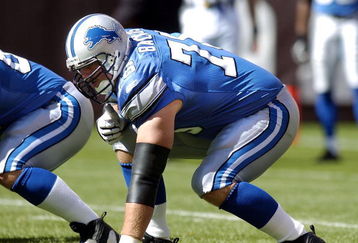 The key to the Rams defense is getting pressure on the opposing quarterback, and this week, the Rams will be taking on someone their own size, the Detroit Lions.  With Matthew Stafford probably out this week, the Lions will be starting statuesque Dante Culpepper.  This is a great chance for the Rams defense to generate some pass rush and create turnovers to help their struggling offense.
At left tackle, the Lions start Jeff Backus, who struggled in 2008 and so far in 2009 has allowed 14 QB pressures, 3 QB hits and 5 sacks.  The sacks and pressures are by far the high on the team.  Pro Football Focus rates his pass protection as bad (as you can see by the numbers above) and his run blocking as good.
At left guard, the Lions start Manuel Ramirez, who was half the snaps of Jeff Backus, but has struggled in both pass and run protection.  He's given up no sacks, but 2 hits and 7 pressures.
At center, the Lions start Dominic Raiola, who has been solid this season.  He allowed 1 sack and has had 3 penalties called against him.
At right guard, the Lions start their most successful lineman of the year, Stephen Peterman.  He has been dominate in pass protection and still good in run blocking.
At right tackle, the Lions start, Gosder Cherilus who has been about average in pass protection and good in run blocking.
If there could be a moral of the story here, the Rams should attack the left side of the Lions offensive line and get to Daunte Culpepper from his blind side.
Source: Pro Football Focus