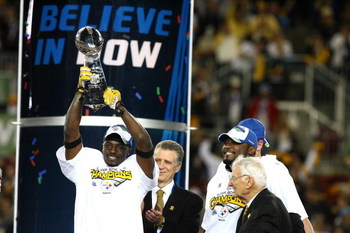 Our St. Louis Rams had the second worst record in the NFL in 2008, just changed head coaches and have a team focused around one superstar, Steven Jackson.  The Rams just came off a very disappointing showing by their first team offense and defense against the Atlanta Falcons in their second preseason game.
But, the Rams have a few things going for them.  First is regression to the mean, their division and history.
First and foremost, the Rams play in the NFC West.  Three out of five of the last years, the NFC West has been won with a 9-7 record.  The NFC West is not the AFC East or South or the NFC East.  It is a step above the AFC West as far as quality of teams goes.  If someone is going to go from worst to first in a division, the NFC West is a great division to be in.  So, let's look at the opposition in the NFC West and why they won't be the division champions.
So, come take a ride with me on the unbridled optimism bandwagon after the jump as we look at the defending champion Arizona Cardinals.
The Arizona Cardinals (9-7 in 2008) – Everyone knows that the team that loses in the Super Bowl always undergoes the dreaded "Super Bowl Hangover".  Only 1 team since 2000 has made it back to the playoffs the next season.  This is quite remarkable because after being the 2nd place team in the whole league, the same team is not even in the top 12 the next season.
The teams that play in the Super Bowl have a shorter offseason than any other team by 2 weeks because of the insane layoff before the Super Bowl.  Secondly, losing in the Super Bowl stinks and coming to grips with that over a short offseason is very difficult.
Thirdly, once a team is in the Super Bowl on the biggest stage, they now have a bullseye on their back throughout their conference.  Everyone gives their best shot to the conference champs.  The Arizona Cardinals were not a great team in the 2008 regular season.  Their defense couldn't stop the run or defend against the pass.  However, the Cardinals did have the division wrapped up early, but as Herm Edwards says "You play to win the game." and the Cardinals got beat badly on several occasions. I mean the Rams almost beat them at the Ed if it wasn't for a juggling catch by Jereme Urban.
So, all those reasons put together means that the Arizona Cardinals will not repeat as NFC West Champions.