We are going to be previewing every position on the Rams here at the eve of training camp.  Now we are on to the defensive side of the ball.  Next up are the defensive tackles.
Adam Carriker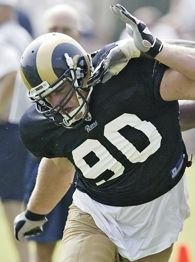 Carriker is a starter for the Rams on the defensive line, he has played well at times, but has been also muscled around at times.  He's on the smaller side for defensive tackles and struggled with the double teams he has been lined up against.  He will be much better served by getting a stronger defensive tackle partner so that he is able to make plays 1 on 1 with a guard.  The signing of Hollis Thomas will facilitate that and so will the emergence of Clifton Ryan or 2009 4th round pick Darell Scott.
The rest of the DTs are after the jump!
Clifton Ryan
Ryan has been one of the good surprises out of the 2007 NFL draft as he was drafted in the 5th round.  He has shown signs of being a dominate force in the middle of the defensive line, but has not been able to put everything together yet.  The Rams have high hopes for Ryan in 2009 and beyond.
Hollis Thomas
The Rams just signed Thomas as a free agent on the eve of training camp.  Thomas is a huge run stuffer who will absorb the double team.  He's a force, but is getting older.  He may only see 1 out of every 3 plays on obvious running situations.  He will be a very valuable player for both the other linemen and the linebackers.
Darell Scott
Scott was drafted in the 4th round of the 2009 NFL draft.  He's 6-3 and 312, so he should be able to play both defensive tackle positions.   The Rams are hoping to slot him in their defensive tackle rotation in 2009.
Antwon Burton
Burton is a 3rd year pro, who has spent time on Denver and Kansas City's practice squad.  He's 6-2 and 325 pounds, so he can play nose tackle.  The Rams picked him up late last season for defensive line depth, but he never got into a regular season game.  Burton will need to show the ability to play in the NFL in training camp to merit a roster spot for the Rams in 2009.
Ian Campbell

Ian Campbell is an undrafted free agent out of Kansas State.  He is a high motor player who is undersized for defensive tackle.  He's a long shot to make the roster, but may find himself on the practice squad.
Gary Gibson
Gibson is a 4th year pro who has bounced around the league, playing in 12 career games.  He should be challenging Burton and Campbell for spots on the practice squad.