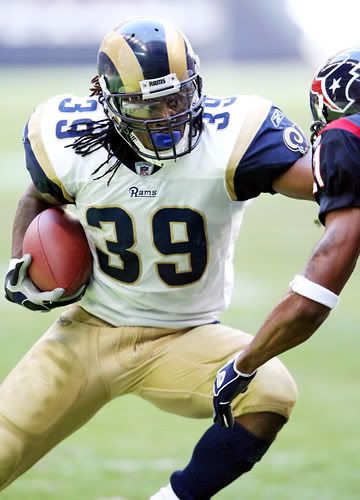 We all know by now that Steven Jackson is officially a hold-out from Rams Training Camp. Steven Jackson is by all accounts the best player on the Rams. Steven Jackson had a slow start to 2007, which was attributed to a lack of reps in training camp and the preseason. I am not worried about Jackson not being in camp yet. Let me tell you why.
First and foremost, we all know that due to a strange quirk in the Collective Bargaining Agreement, Jackson has to report by August 8th or forfeit a year of eligibility towards free agency. So, he won't stay away from training camp longer than that.
Secondly, he is holding out for a new contract, which Rams fans were afraid that he wouldn't want to sign after the season when he was a free agent. This holdout allows the Rams to lock up their best player long term. Whether this is a good idea or not, we can leave for another day.
Training camp is not for players like Steven Jackson, they are for fringe players and new veterans trying to re-establish themselves. If he misses two weeks, I don't care. As long as he is working in the preseason on holding on to the ball and not fumbling, he's good to go for the season. (As an aside, Jackson's Week 1 in 2007 game against Carolina was the 5th worst game by a RB in the last 5 years according to Football Outsiders. So, let's get him some work in the preseason.)
Lastly, the holdout has (so far) ceased to become contentious. Jackson is texting coach Linehan and other players. They are texting him back about camp. I think everything is going to end up just right.