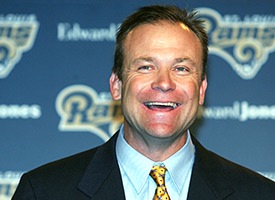 Dear Coach Linehan,
Well, wheels went up on the charter flight to Wisconsin today, and it is off to another year of summer camp. I know all of us back in St. Louis hope that the change in scenery does the trick; I know a lot of us are disappointed that we won't get the chance to visit you all at camp this summer. I just wanted to write to remind you of a few things you may have forgotten.
Don't treat Steven Jackson with kid gloves:
I know it will be tempting to limit the work seen in the pre-season by #39, but I must remind you that while this protection keeps him healthy going in to the season, it does not fully prepare him for the riggers the season to come will bring. Even the Chargers LT is learning that he may have to play more (as in some) this pre-season to get ready, and you should really think about doing the same thing with SJ. Last year I think his lack of preparation contributed to his difficulties, so maybe it is time to try a different approach. By no means over work him, but a few knocks in the preseason could do him some good.
Make sure everyone on offense gets a chance:
Last season we were told how lucky we were to have gotten offensive weapons like Randy McMichael and Drew Bennett. Now granted, Bennett was hurt for a lot of the year, but now he is coming in healthy and as a freshly minted starter. Don't forget him or McMichael in the weeks to come. Both can be tremendous threats in the red zone, an area that was frustrating at times last year. In order to b effective again, this Rams offense needs to diversify, utilize the weapons you have. And trust Al Saunders, the guy knows a thing or two about running productive offensive units.
Try to find all 5 starters on the o-line ASAP:
One of the biggest challenges to the Rams offense last year was the lack of a consistent blocking core. A lot of that was beyond your control, the injury bug bit hard. But it will be important to pick a group quickly so that they can jell as a unit, as a Rams line hasn't done for a while. Let them get used to playing together, we have some young players with good upsides, lets get them used to lining up next to each other so as to start building good chemistry, I'm sure Marc Bulger would thank you. And while we are on the subject:
Reconnect:
I know last season is behind us, but who could forget the tension that emerged between you and some of your star players. At times Bulger, Tory Holt, and Steven Jackson all expressed their displeasure with the way things were going. Now is your chance to win them all over again. Show them that things are changing; show them a new offense that they can get excited about. If you want to come back to camp next year, you are going to have to make everyone up there come together, it is time for some younger players to step up as real leaders, find some.
We are all excited to hear how things are going up there, write back soon.
Sincerely,
Josh
P.S
I know we are all pumped to see what the new guys can do, Let's hope Donnie Avery can get in soon to be that speedster you and Coach Saunders wanted so badly, the sooner he get's in to the offense, the better!